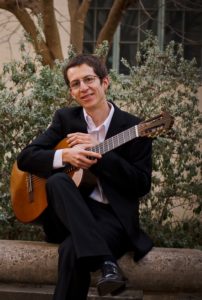 Nicolás Emilfork was born in Santiago, Chile. He graduated with maximum honours at The University of Chile where he studied with Professor Ernesto Quezada. Recently, Nicolas obtained his Doctor of Musical Arts degree at the University of Texas at Austin under world-renowned Professor and performer Adam Holzman, sponsored by a Chilean Government Full Scholarship. He completed his Master's Degree at the same university. His dissertation is an exhaustive analysis of three guitar sonatas of the twentieth and twenty-first century by Carlos Guastavino, Guido Santórsola, and Roberto Sierra.
He has been a prize winner in international guitar competitions in Chile, United States, Spain, and Greece. Recently, Emifork won the first prize and the audience prize at the Texas International Guitar Competition. During the last years, he has obtained awards in the following events:
– Florida Guitar Competition 2017
– Sierra Nevada Guitar Competitions 2017
– ECU Guitar Competition 2017
– Lone Star Guitar Competition 2017
– Colorado Guitar Competition 2017
– Nancy L. Cooke Memorial International Guitar Competition 2016
– Louisville Guitar Competition 2016
– Lone Star Guitar Competition 2016
– ECU Guitar Competition 2016
– Columbus Guitar Competition 2016
– Southern Guitar Competition 2015
– Colorado Guitar Competition 2013
He has also received full scholarships from the Chilean Government to study a Master's and Doctoral Degrees in The United States. Nicolas has given recitals in important music halls in Chile such as Teatro del Lago, Teatro Oriente, Teatro Municipal in Viña del Mar, Teatro Municipal del Maule, and others. He has performed in United States, Spain, France, Portugal, Greece, Austria, Morocco, and Argentina. He has been invited to take part in important Music Festivals: International Festival "Guitarras de América"; International Guitar Festival "Ciutat d'Elx"; Nit de Concerts Clasics a Santa María de Solanes, Catalunya, Spain; Les Cordes Pincées Festival in Rabat, Marruecos; and others. He has also performed with Orquesta Clásica de la USACH, Orquesta Provincia Marga Marga, and the UT New Music Ensemble.
He has had several master classes with important musicians such as Hopkinson Smith, Roberto Aussel, Edoardo Catemario, Eliot Fisk, Alvaro Pierri, Margarita Escarpa, Alex Garrobé, Carlo Marchione, and others.
He released his first CD, "Retrato", with works by Mauro Giuliani, Antonio José, Leo Brouwer and Sergei Rudnev. In Chile, he was chair of guitar and teacher at Music Conservatory Sergei Prokofiev, in Viña del Mar, Chile, until the beginning of his graduate studies at the United States. As a recognition of a perfect GPA of 4 in his Master's Degree, he was invited to be a member of the prestigious Honor Society Phi Kappa Phi, the oldest all-discipline honor society organized around recognizing academic excellence in the United States.
He writes cultural columns on Revista El Guillatún (Chile), and Revista Pterodáctilo (United States). Currently, he lives in Austin, Texas, with his wife, Magdalena, and their daughter, María Jesús.